The reason why most of us love reading books is the ability of words to make us feel. Whether it is feeling like you are living through an adventure that we would otherwise never experience, or feeling joy, heartbreak, anxiety and excitement while sitting in the comfort of our homes. Skilled wordsmiths can achieve all that with a sentence or two and create lasting impressions on readers without ever having met them in person.
I love collecting literary quotes. Even though they are fragments, separated from the whole of the story, they help me relive the most cherished parts of books I've loved. They remind me of the struggles of characters that I've cared about and the importance of journeys that I've witnessed while reading. But the power of the quote doesn't end there. Apart from reminding us of all the wonderful adventures we've been on, they also magically seem to become part of our own personal journey. Reading a quote about love can sometimes speak directly to a reader's soul. That's the beauty of quotes I guess. So I've decided to put together a list of my personal favorites for your viewing pleasure. Similarly to my list of favorite characters, I once again refuse to rate them and that is why they will be in no particular order.
"Finally, from so little sleeping and so much reading, his brain dried up and he went completely out of his mind." – "Don Quixote" by Miguel de Cervantes Saavedra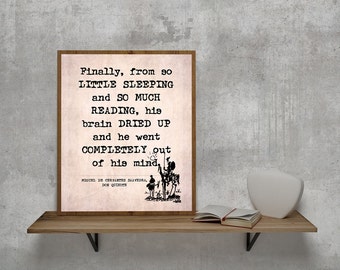 Gotta love a good book-related quote, right. And it's somewhat true to be honest. Sometimes when I get really into a book and I read continuously for hours, I have a hard time snapping out of it afterwards.  I get so sucked into the world of it, that it's hard to get back into my own. I am left feeling inadequate in my tasks, after having been part of an epic adventure for hours before. It does kind of feel like I've gone out of my mind. Granted, I am yet to reach the level of Don Quixote's loss of mind, but you get my point.
 2. To the people who look at the stars and wish, Rhys."Rhys clinked his glass against mine. "To the stars who listen— and the dreams that are answered." – "A Court of Mist and Fury" by Sarah J. Maas
This is one of my favorite quotes of all time. It's heartfealt and it's optimistic, similarly to looking at the stars in the night sky. The words are melancholic and nostalgic and always make me feel like there are countless possibilities for the future, regardless of the situation that I am in today. I love this book and the quote undeniably reminds me of some of my favorite parts, but it also goes above and beyond in claiming a place in my soul as an optimistic mantra.
3. "Books are my friends, my companions. They make me laugh and cry and find meaning in life."―  "Eragon" by Christopher Paolini
Eragon by Christopher Paolini was one of the books that I really enjoyed when I was younger. Being an introvert who doesn't like showing emotion before strangers, this part of the book really spoke to me. And I think it will speak to many booklovers out there, who have had a hart time explaining their passion for books. And most of us have at some point. The main argument is that books are an integral part of our lives and have the power to ignite emotions just like friends would. But with books, you have countless of friends that are always there for you and you know that whatever your emotional need might be, there is a book in your collection that correlates to it.
4."The Road goes ever on and on 
Down from the door where it began.
Now far ahead the Road has gone,
And I must follow, if I can." – "The Fellowship of the Ring" by J. R.R. Tolkien
My favorite epic tale has plenty of quotes that I love and always go back to. But this one is especially dear to my heart. The endlessness of our journey on Earth is something many people struggle with. The inability to see what's coming your way or to control your faith and future is stressful, especially to young people. I struggled with this when I was graduating from college, and in all honesty, I still do sometimes. But the road goes on and on and we can only do our best to follow where it leads us.
5. "He stepped down, trying not to look long at her, as if she were the sun, yet he saw her, like the sun, even without looking." – "Anna Karenina" by Leo Tolstoy 
I was obsessed with reading Anna Karenina a few years back and for the life of me, I could not find a copy ANYWHERE. A couple of months into my quest for the book, I finally got my hands on it and quickly realized that perhaps Russian classics are not my thing. Even though I've read my fair share of them, the pace of most does not really suit my impatient character. Anna Karenina is by far the one I've enjoyed the most. And this quote is a perfect line to suit the impression that it left on me. There is something so attractive about a love that is forbidden and frowned upon by societal norms. And fighting it only makes it harder to ignore the desire. Even when you try not to look, knowing that it makes you want, you cannot look away, as the want is there with you regardless, following you like a shadow in the sun.
6. "If you live to be a hundred, I want to live to be a hundred minus one day, so I never have to live without you." – "Winnie the Pooh" by A. A. Milne
When I think of this quote, I rarely associate it with "Winnie the Pooh" and yet, that is where it comes from. This quotes is what I think describes a real relationship. The real day-to-day struggles of keeping it going regardless of fights, jealousy and detachment. And despite of all of that, the one still cannot be without the other. I guess this quote became really personal to me after the recent passing away of my grandfather. Him and my grandmother had spent their entire lives together, never having been separated for more than a week. They were in a constant state of bickering since I can remember. And her devastation when he was no longer here was an eyeopener when it came to the realization of how deep their love was.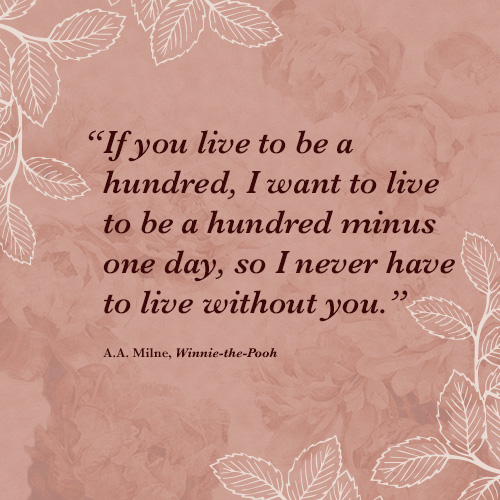 7."It is a truth universally acknowledged that a single man in possession of a good fortune must be in want of a wife." – "Pride and Prejudice" by Jane Austen
I love "Pride and Prejudice". It's one of my favorite classics and the love affair between me and the book started all with the first sentences. This is one of them and it's the best. It's witty and funny, but also provides a realistic perspective of the expectations when it came to men and women in that time. A woman from a good family is looking for a husband at a young age and naturally he must be able to provide for her needs, which would signify that he must be in possession of a fortune. Therefore, those men who fit the criteria were often seen as a prize and if they were unmarried, were assumed to be in a perpetual hunt for a wife. And that's just the first sentence…
8."How dreadful!" cried Lord Henry. "I can stand brute force, but brute reason is quite unbearable. There is something unfair about its use. It is hitting below the intellect." – "The Picture of Dorian Gray" by Oscar Wilde
I agree with this quote far more than I should. It's once again witty, but also applicable across time periods. People who use brute force to hurt you physically are not seen as major of a threat as those who use brute reasoning, refusing to listen to reason. Hitting bellow the belt is often seen as foul play and is deemed unethical and unnecessary, but hitting below the intellect is sometimes even more painful to one's ego. Not to mention that it's pretty irritating.
9. "The right thing isn't always real obvious. Sometimes the right thing for one person is the wrong thing for someone else. So…good luck figuring that out."
― "Twilight" by Stephenie Meyer
Okay, I know what you're thinking, "Really? TWILIGHT? REALLY?" And, yes, really. I love this quote even though it comes from a book series, which is widely disregarded by book-lovers everywhere. I disagree with that, but that's a topic for another time. I like the sentiment behind this quote and no one will convince me otherwise. It's about freedom of choice and the ability to pick what's right for you even when other people insist that they know best. What is the best solution for you might not be the same for everyone else, but might end up making you happy regardless. You do you.
10. "People find it far easier to forgive others for being wrong than being right." —  "Harry Potter and The Half-Blood Prince" by J.K. Rowling,
People have a hard time accepting criticism. I am one of those people. Especially when it comes from someone whom I do not consider close enough to criticise my actions. And while it's somewhat easy to dismiss it, blaming his audacity on his inability to understand me and sheer stupidity, it is much harder to get over it if the person proves to be right. It's something about being unable to see it myself while someone else obviously had. That really pisses me off (at myself mostly) and makes me not want to see that person. Granted, I am probably the only one who obsessively thinks about how he was right and I was wrong, but that doesn't matter. Still working on that.